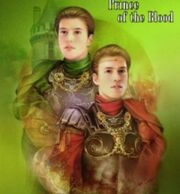 Borric II was monarch of the Kingdom of the Isles during the time of the Serpentwar
Biography
Edit
Born as Prince Borric ConDoin, he was one of the twin sons of Arutha conDoin, Prince of Krondor. He was born shortly before the Siege of Sethanon. His twin brother was Erland.
He became King of the Kingdom of the Isles when King Lyam I's only son, Randolph was killed in a shipwreck,
Borric was married to Queen Yasmine and was succeeded by his son, Patrick.
Appearances
Edit
Ad blocker interference detected!
Wikia is a free-to-use site that makes money from advertising. We have a modified experience for viewers using ad blockers

Wikia is not accessible if you've made further modifications. Remove the custom ad blocker rule(s) and the page will load as expected.